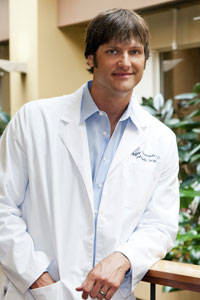 Dr. Jeff Padalecki is an Orthopedic Surgeon in Austin, Texas specializing in sports medicine and arthroscopic surgery of the shoulder, knee and hip. His practice focuses on both surgical and non-surgical treatments of sport-related injuries and degenerative disorders of the shoulder, knee, and hip. Dr. Padalecki is one of the few orthopedic surgeons who have had the privilege of completing their fellowship training in arthroscopic surgery with the Steadman Clinic in Vail, Colorado. The Steadman Clinic is an internationally renowned institute dedicated to sports medicine and excellence in orthopedic surgery.
Dr. Padalecki is a Texas native and former collegiate athlete. He received an engineering degree from St. Mary's University in San Antonio, Texas where he was recognized as a Presidential Scholar and graduated with Magna Cum Laude honors. During his time at St. Mary's, he received an NCAA Basketball Scholarship and served as team captain during his senior season. He received his medical degree from UT Houston Medical School where he decided to pursue orthopedics and was awarded a research stipend from the Department of Surgery.
Following medical school, Dr. Padalecki completed his Orthopedic Residency at UT Southwestern and Parkland Hospital in Dallas, where he obtained vast experience in musculoskeletal trauma and fracture care. During his residency, he acted as assistant team physician to local high school, collegiate, and semi-professional athletes. He was elected by the faculty to attend the American Orthopedic Association Resident Leadership Forum, an honor bestowed to only one resident in each graduating class.
Dr. Padalecki was then selected to attend the prestigious Steadman Clinic Fellowship Program, an opportunity awarded to only a very small percentage of new doctors. He trained with the top orthopedic surgeons in the world for complex shoulder and knee surgery, as well as hip arthroscopy.
He has treated numerous professional athletes from the NFL, NBA, NHL, MLB, PGA tour, and professional tennis, and he has also served as a physician for the US Ski and Snowboard teams. Through this experience, he has become well-versed in arthroscopic joint restoration procedures and has focused on helping patients return to their active lifestyles.
Dr. Padalecki has been heavily involved in research throughout his career and has been the recipient of the prestigious Albert Trillat Young Investigator Award. This is an international honor that is only awarded to one surgeon every two years. His research interests include ACL and cartilage injuries in young patients, meniscus repair surgeries, and novel techniques for treating complex shoulder injuries. His research has been presented at multiple national and international meetings.
Accolades
Whether you are an elite athlete or simply someone looking to stay active, Dr. Padalecki's goal is to offer specialized care and support through every step of the process. He prides himself on communication with his patients and is always available for their needs. He is committed to serving the Austin community and is a member of the Travis County Medical Society. Dr. Padalecki and his wife live in west Austin and have four children.
Jeffrey Padalecki, MD Reviews
Average rating:
3 reviews
Aug 14, 2017
OUTSTANDING
Dr. Padalecki is not only smart and accomplished in his field but a very caring and down to earth individual. Hurting shoulder led to MRI and arthroscopic surgery. My therapy and recovery was a breeze--he says because of my attitude; I say because of his skill! I highly recommend!
May 10, 2017
For Athletes
I was an athlete in HS and college and have since become a mom to twins. Dr. Padalecki clearly understands the body and mindset of athletes! He understands we cant just sit out an injury, or in my case the rest of my life. It was so refreshing to have a doctor explain and understand. Some of us cant just sit around, we are doers, he gets that!
Dec 19, 2016
My Appt. Was at 10am so i showed up at 930 to feel out paperwork. To my surprise I had x-rays done in the same building before I saw the physician. The radiology team was fast and thorough. When it was time to see the phyician he had my x-rays at bedside.DR Padalecki is down to earth and approachable physician. He took time to listen to my concerns,  and answered all my questions. Highly recommend DR Padalecki and his staff to anyone in need of a orthopedic specialist. What I thought was going to be 3 or 4 office visits and surgery turned out to be 1 visit and no surgery.