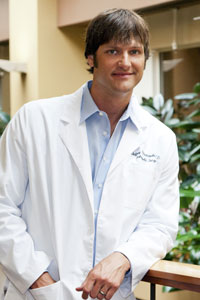 Dr. Jeff Padalecki is an Orthopedic Surgeon in Austin, Texas specializing in sports medicine and arthroscopic surgery of the shoulder, knee and hip. His practice focuses on both surgical and non-surgical treatments of sport-related injuries and degenerative disorders of the shoulder, knee, and hip. Dr. Padalecki is one of the few orthopedic surgeons who have had the privilege of completing their fellowship training in arthroscopic surgery with the Steadman Clinic in Vail, Colorado. The Steadman Clinic is an internationally renowned institute dedicated to sports medicine and excellence in orthopedic surgery.
Dr. Padalecki is a Texas native and former collegiate athlete. He received an engineering degree from St. Mary's University in San Antonio, Texas where he was recognized as a Presidential Scholar and graduated with Magna Cum Laude honors. During his time at St. Mary's, he received an NCAA Basketball Scholarship and served as team captain during his senior season. He received his medical degree from UT Houston Medical School where he decided to pursue orthopedics and was awarded a research stipend from the Department of Surgery.
Following medical school, Dr. Padalecki completed his Orthopedic Residency at UT Southwestern and Parkland Hospital in Dallas, where he obtained vast experience in musculoskeletal trauma and fracture care. During his residency, he acted as assistant team physician to local high school, collegiate, and semi-professional athletes. He was elected by the faculty to attend the American Orthopedic Association Resident Leadership Forum, an honor bestowed to only one resident in each graduating class.
Dr. Padalecki was then selected to attend the prestigious Steadman Clinic Fellowship Program, an opportunity awarded to only a very small percentage of new doctors. He trained with the top orthopedic surgeons in the world for complex shoulder and knee surgery, as well as hip arthroscopy.
He has treated numerous professional athletes from the NFL, NBA, NHL, MLB, PGA tour, and professional tennis, and he has also served as a physician for the US Ski and Snowboard teams. Dr. Padalecki also serves as the medical director of the Ballet Austin. Through this experience, he has become well-versed in arthroscopic joint restoration procedures and has focused on helping patients return to their active lifestyles.
Dr. Padalecki has been heavily involved in research throughout his career and has been the recipient of the prestigious Albert Trillat Young Investigator Award. This is an international honor that is only awarded to one surgeon every two years. His research interests include ACL and cartilage injuries in young patients, meniscus repair surgeries, and novel techniques for treating complex shoulder injuries. His research has been presented at multiple national and international meetings.
Accolades
Whether you are an elite athlete or simply someone looking to stay active, Dr. Padalecki's goal is to offer specialized care and support through every step of the process. He prides himself on communication with his patients and is always available for their needs. He is committed to serving the Austin community and is a member of the Travis County Medical Society. Dr. Padalecki and his wife live in west Austin and have four children.
Jeffrey Padalecki, MD Reviews
Jeffrey Padalecki, MD
Average rating:
30 reviews
Mar 4, 2023
Total shoulder replacement March 24, 2022
In my opinion, Dr. Padalecki, is an outstanding surgeon. His expertise, bedside manners and staff assistance are exceptional. He is detail-oriented and very caring about wellbeing of his patient. Detail to my health before surgery and after the surgery assured my trust in him.
Regardless of my age, post-surgery care and physical therapy allowed for the timely recovery. Six months later, I as able to move my arm higher than 20 years ago. Now, almost year later, I am able to return to my hobbies of gardening and working on the yard. Most importantly my sleep is no longer being interrupted by the shoulder pain.
If you need a GREAT surgeon, don't hesitate to choose Dr. Padalecki.
Aug 2, 2019
Excellent Surgeon/Staff
Dr. Padalecki is an outstanding surgeon. He is a perfectionist, detail-oriented, and he takes the time to address any concerns you have. I had right rotator cuff surgery/cleaned out right shoulder nine days ago, and I haven't felt this great in years other than soreness from the shoulder healing. I have overused my right shoulder in sports, etc. all of my life, and I have suffered with severe neck/ shoulder pain and weakness in my right arm/hand for about seven years. When I was awake after my surgery, I noticed that I didn't have any more pain in the neck or shoulder. Also, the next day, my hands were completely strong again. I know this type of surgery involves a long recovery, but I am amazed at how quickly I am healing and the small incisions. On top of Dr. Padalecki's expertise, his staff are wonderful! Go see him! Don't put off surgery, if you need it, as I did. You are in great hands with him!
May 14, 2019
The past year I had fractured my femur and was unable to walk. I had gone to several Drs who didn't have a good bedside manner and had also misdiagnosed me saying I had tendinitis and one gave me a cream to use for pain which burned and blustered my leg. When I met Dr. Padaleki I was so blessed to have found him. He is such a wonderful Dr. he listens and cares and gives you his full attention. I have done everything he has told me and I'm able to walk on my leg. I'm so thankful to God for sending him my way. He is the very best Dr. his nurses are the best and care so much about me. Thank you Dr. Padaleki for all you do for me. Aka - I have nicknamed him Jesus cause he looks like Jesus to me!
Feb 8, 2018
He is incredibly professional he knows perfectly what he is doing
Dr. Jeffrey fixed my left shoulder as promised with no pain after surgery and an incredible support before during and after this experience. He is incredibly professional he knows perfectly what he is doing, he is very serious and focused when meeting him. I am deeply grateful for his support and for his fantastic and very professional behavior.

Dec 23, 2017
Dr. Padalecki is a miracle worker
OMG. Dr. Padalecki is a miracle worker. Crushed my humerus in Belize and he fixed the damage the VooDoo Dr did. 1000% recommend him.

Nov 22, 2017
Dr. P is truly gifted and more than that
Fractured my ankle in 4 places Easter Sunday 2017. Dr. Padelecki came highly referred ...the highest referral of all I researched. After my first appointment I knew I had made the right choice. As you can imagine i was somewhat frantic ...after all when you lifted my foot...it would flop over the wrong way! So when he said he wanted to take me out of the temporary splint I was in...i began very emotional....no one but me had seen my foot flop and I was scared!! He was awesome in calming me down...and he didn't take my foot out...knowing that doing so would panic me. He is very tuned into patients feelings. Never felt rushed, always felt well cared for. His tech Sarah...OMG..she is an angel. Because of swelling I had to have my cast replaced several times...and she is a PRO!! Dr. P told me upfront what to expect...and he was spot on. 12 weeks of no weight on m foot....13 screws and a 4" plate later....Im pretty much back to normal! Today I put on my boots...im thrilled. Dr. P is truly gifted and more than that...he is a great person!

Nov 3, 2017
What a great experience!
After too many years of shoulder (both) issues, I made an appointment to see Dr. Padalecki. He's the ortho on staff at my ARC location. I checked-in and was sent for x-rays in the same building. I spent more time with Dr. Padalecki than any other doctor since HMOs were created. He was thorough, answered my questions and in the end gave me a shot of cortisone and sent me home with a series of exercises. I feel better already from the shot. I am thrilled that he didn't prescribe any meds. He did tell me to come back if the issues persist and we can look at surgery but that is his last resort as it is mine too.
Aug 14, 2017
OUTSTANDING
Dr. Padalecki is not only smart and accomplished in his field but a very caring and down to earth individual. Hurting shoulder led to MRI and arthroscopic surgery. My therapy and recovery was a breeze--he says because of my attitude; I say because of his skill! I highly recommend!
Jul 5, 2017
Glad to have found Dr. Padelecki
Glad to have found Dr. Padelecki. I have had alot of surgery - both knees replaced - good results, but sometimes the surgeons were less than personable. This guy is great - and my teenage daughter is ga ga cause his brother is Jared.

Jun 5, 2017
Dr. Padaleki is great with Athletes
Dr. Padaleki is great with Athletes, he understands we need to work to get string again, that we can't just sit around and do nothing. He is knowledgeable and honest. A straight shooter! Very thrilled to have found him, he took what seemed like an end of life sentence at 36 and gave me back my power!